Frequently Asked Questions
Frequently Asked Questions
How can video benefit our business?
In today's business world, video has become the most powerful tool for marketing a product or service. The average person spends 7 hours per day on electronics, and videos are the most consumed type of content. By using video on your website and in social media, you will find increased traffic like never before. In fact, Google loves video and it will dramatically increase your search rankings when placed on your site. With all this in mind, our goal is to produce video content which will inspire, inform, and initiate your target audience!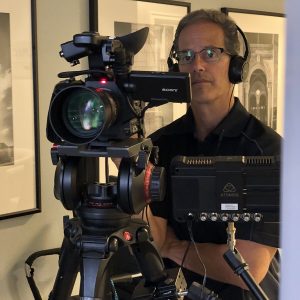 What makes HM better or different than other production companies?
It seems like anyone can film quality footage with today's technology at our fingertips, but there are three factors which separate Highway Media from the competition. First, we are great storytellers! This doesn't happen with a great camera, but from a team of creative professionals. Next, we are marketing experts! We work closely with you to understand the objectives of the video along with your marketing strategy. Finally, our cutting-edge creativity has made us one of Metro-Detroit's leading companies in the industry, earning an array of national awards.
What is the cost to produce a short, promotional video for our business?
Video isn't as costly as many people think. And while there isn't a menu of packages to choose from, we can usually produce a video which meets your budget. Once we understand the details of your project, HM will provide a detailed quote. If you have a particular budget in mind, chances are we can develop a video which fits. Keep in mind that your new video should be considered an investment and not an expense.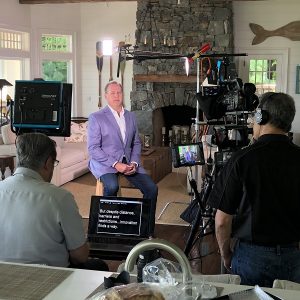 How long does it take to have a video produced?
Depending on the size, the average turnaround time is 4-6 weeks after signing the agreement. If you are in need of a very quick turnaround, we might be able to fit your project into our schedule for a "rush" premium.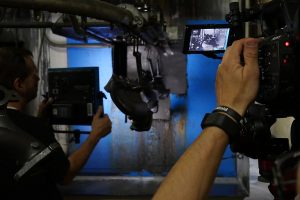 Will we have any input on the style of the video?
Absolutely! We encourage the involvement of our clients and will discuss details such as the format of storytelling, editing style, music, length of video, and more. Finally, we request your final approval before delivering the master video file(s).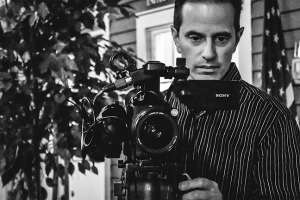 Will a single video be enough for our marketing purposes?
While a single video might be sufficient for some businesses, we are seeing most clients who desire a library of videos for a variety of purposes. First, we recommend a "full-length" video for your website which might be 2 minutes or longer. Next, we encourage :30 second videos for social media and YouTube to attract viewers to the website. Beyond these, HM can produce "category" videos which highlight a specific topic or service that you offer. Finally, we can also produce testimony videos with clients. These are powerful ways to share the experience of your clients with a prospective audience.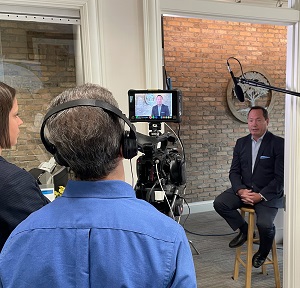 What is the best length for a video?
The length of video is truly dependent on the industry you are serving and the purpose of the video. Therefore, we'll guide you through the process to determine an appropriate length based on your needs.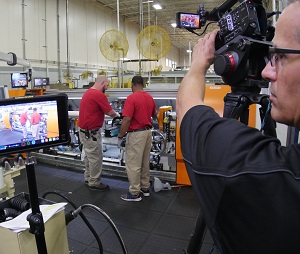 What happens to the footage at the conclusion of a production?
Since video should be an ongoing tool in your marketing strategy, it is wise to maintain the raw footage for any future updates. This will save time and money for everyone. Thus, HM can either store the everything for an annual charge, or you can pay a one-time transfer fee to hold the footage internally. Once a new project need arises, you would then give us the hard drive to use for editing. As for ownership, you will own the rights to the edited video, along with all the content. However, HM will own the intellectual rights to anything we capture.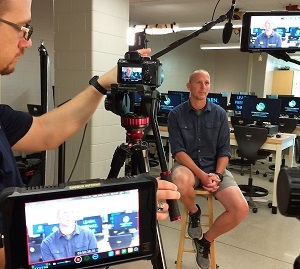 What Our Clients Say
The team at Highway Media was extremely helpful in writing the script and producing my company's video for our website. We required multiple shoots to capture "before" and "after" shots of the services we provide, and in the end, the video showcases our services beautifully. This was the first professional video we have ever done for the company and the results were excellent.

Owner, Surface Solutions

We started working with Highway Media in 2005 for the All-Star Game Fantasy Camp and it's been a homerun for Major League Baseball. Their creativity, videography, production and price is second to none and our recap video is an integral part of our camp for our corporate partners.

Director of Local Sales, Major League Baseball

Highway Media is a great partner who serves all of our video needs. We chose them to create two community promotional videos and then two years later they used that material to put together two television commercials. Throughout the process they listened to what we wanted and created an award winning product that truly reflects the character of the Plymouth Community.

President, Plymouth Chamber of Commerce

The work that Highway Media has done for our company has been excellent. While each project has had specific issues that needed support, the team at Highway Media has always been able to respond with the speed, quality and presentation promised. Every step in the process was described before we began, smooth and efficient. We look forward to working with Highway Media in the future for all of our video support work.

National Field Manager, Hayden McNeil Publishing

The Highway Media team jumped right into our project and immediately focused on the issues and opportunities my client faces in their industry. They produced a video which hit every point. The Highway Media team was an absolute pleasure to work with!

President, The Prewitt Group

The team at Highway Media were incredible. Taking our first shot at producing a short narrative at our plants on the improvements that have been done and turning it into a full 8 minute movie went as smooth as can be imagined. The final version of the film was professionally put together and the theme of the project rolled into a well versed short clip. Can not say enough about the team and their enthusiasm during the event and after. Thanks from the Kerr and Metrex teams on a job well done!

President, Kerr Dental Supply

Highway Media delivered us an incredible commercial at a fair price. We had excellent communication, quick turnaround, and they helped us flesh out our vision for it while giving expert guidance and suggestions along the way. We'll be back!

President, Ann Arbor T-Shirt Company

Throughout a steady 3-year undertaking with Highway Media, I have found them to be the kind of solid partner that we hoped for. They were consistent in meeting commitments and showed great resilience in creating the video product as well as packaging the product. Concerning each of four grant proposals that we prepared with Highway Media's help, they were entirely fair, timely, and creative in supporting our effort. They are certainly my preferred provider of video-production services.

Co-Founder, New Leaven